There's something undeniably comforting about a well-cooked potato dish that warms both the heart and the soul. In today's post, I am excited to share a recipe that has been passed down through generations – Mummy's Curry Aloo. Her curry aloo is the best I've ever had! Literlly finger licking good. It's more about the technique rather than the ingredients used. Check out the accompanying video for more details.
Bursting with rich flavors and aromatic spices, this dish is a testament to the cherished traditions of home-cooked meals that bring families together. Whether you're a seasoned chef or a passionate home cook, Mummy's Curry Aloo promises to elevate your culinary prowess while enveloping your kitchen in an irresistible aroma.
A Glimpse into the Ingredients
To begin, gather the following key ingredients:
2 lbs of potatoes, meticulously peeled and cut into enticing cubes.
6 tablespoons of extra virgin olive oil(or any oil of your choice), a luscious base for the flavors to bloom.
2 teaspoons of curry powder, infusing the dish with a harmonious blend of spices.
½ teaspoon of vibrant turmeric powder, adding both color and depth to the recipe.
Optional: ¼ teaspoon of whole cumin and 5 fenugreek seeds(methi), for an extra layer of complexity.
¼ chopped onion, lending a sweet undertone to the dish.
Hot pepper, according to your heat preference, to tantalize your taste buds.
2 chopped scallions, elevating the dish with their fresh aroma.
1 tablespoon each of minced garlic, green seasoning, and culantro, infusing the dish with layers of flavor.
3 sprigs of fragrant thyme, a herbaceous addition that ties everything together.
Hot water, the fluid element that binds and balances the dish.
Serving Your Culinary Triumph
With Mummy's Curry Aloo prepared to perfection, it's time to savor the fruits of your labor. This dish shines both as a delightful main course and a sumptuous side dish.
Serve it alongside sada roti, dosti roti, dhalpuri, paratha, or rice.
Served below with paratha and instant pot curry stew goat.
You may also serve these dishes with your curry aloo: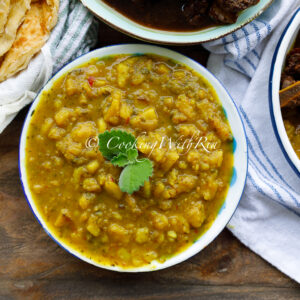 Peel potatoes, wash and cut them into 1 inch cubes.

Heat oil in a heavy bottomed pot (Dutch oven) over medium heat. Add onion, hot pepper and cook until they begin to brown.

Add methi and whole

geera

(cumin). When it starts to pop, add curry and turmeric. Cook 1 minute, stirring.

Add chopped scallion, garlic, green seasoning, culantro and thyme sprigs and cook for 1 minute.

Add potatoes and stir to coat with the curry. Stir in and salt.

Reduce the heat to low, cover and cook about 10 minutes, stirring occasionally.

When the potatoes begin to stick to the pot, add about 3 cups of hot water, stir well to combine, bring to a boil, reduce heat back to low, cover and cook for an additional 10-15 minutes.

Remove cover, mash about 1/4 of the potatoes and any large pieces with the back of the spoon. Cover the pot and cook an additional 3-5 minutes, or until the potatoes are fully cooked and the sauce has thickened slightly. Feel free to add more water to create as much sauce as you like. Keep in mind that it thickens as it cools.

Taste for salt and add more if required.

Serve as a main or side dish with sada

roti

, dosti roti, dhalpuri, paratha or rice.
Calories: 133kcal | Carbohydrates: 2g | Protein: 0.4g | Fat: 14g | Saturated Fat: 2g | Polyunsaturated Fat: 2g | Monounsaturated Fat: 10g | Sodium: 2mg | Potassium: 45mg | Fiber: 1g | Sugar: 0.4g | Vitamin A: 86IU | Vitamin C: 3mg | Calcium: 14mg | Iron: 1mg
Source link