Classic Cars
David Brown Automotive Mini eMastered arrives as brand's first EV restomod
British bespoke builder David Brown Automotive enters the EV fray with its first electrified Mini restomod
David Brown Automotive – the Silverstone-based firm known for its Jaguar XK-based Speedback GT and numerous luxury Mini restomods – has added an electric car to its lineup for the first time. The new Mini eMastered sticks to the brand's usual recipe for its converted Minis but adds a 97hp electric motor and 18.8kWh battery in place of the usual A Series engine.
A range of 110 miles is claimed alongside a 0-60mph time of 8.5 seconds; David Brown Automotive suggests that the car has been "engineered to be the ultimate luxury remastered classic for the city". There's no DC fast charging capability, however, with owners limited to 6.6kW AC charging via a port mounted in place of the usual fuel filler. The firm claims a full charge in three hours via a home wallbox.
David Brown Automotive offers buyers a wide range of bespoke paint and leather options as part of the build process which begins with a 'hand crafted' donor body. Exterior changes include smoothed-off rain gutters and panel gaps, Minilite-style alloy wheels, bullet-style mirrors and a body-colour mesh grille.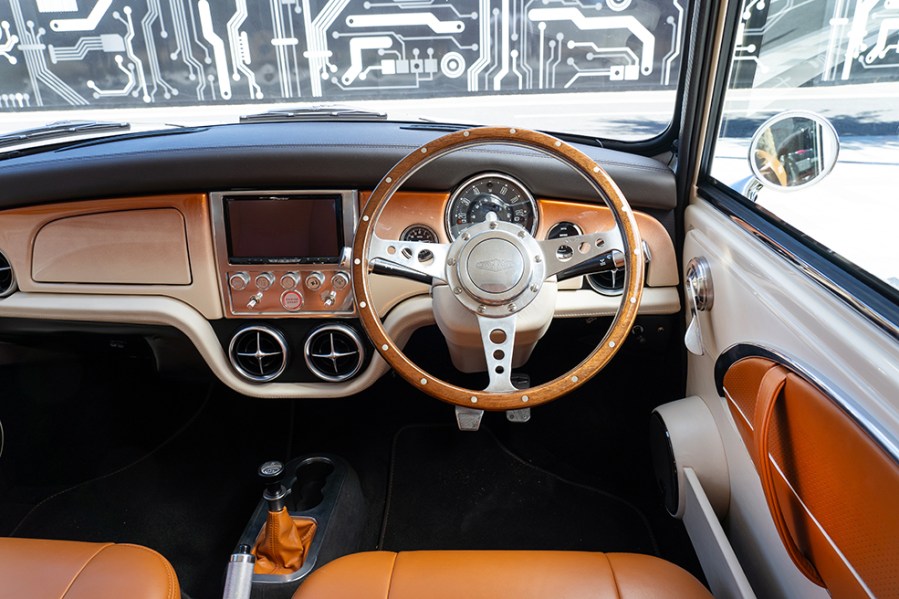 Inside, a custom dashboard incorporates lots of leather trim, round vents, custom dials and a wooden steering wheel. Modern conveniences include an Apple CarPlay and Android Auto enabled infotainment system along with full LED exterior lighting.
"The launch of the all-electric Mini eMastered reaffirms David Brown Automotive's distinguished position as a driving force of the luxury automotive industry," said Michelle Gay, David Brown Automotive sales and marketing director. "With an unwavering dedication to British craftsmanship, innovation, and sustainability, we have earned global recognition for our renowned handcrafted automotive masterpieces and today we are proud to showcase our electric future."
Prices start at £125,000 excluiding VAT, with build slots now available to reserve for £1,000.
Source link