Women's Health
What to Use Instead of Nail Glue? Alternative Products and DIY Solutions
What to use instead of nail glue? The spike in the popularity of press-on nails has offered a list of nail glue alternatives, such as nail tapes and handy nail polish tricks, that are cost-effective and less damaging to your natural nails.
Following the COVID-19 pandemic and the closure of nail salons, press-on nails, also known as press-ons, came back in style due to their convenience, versatility, and affordability. Press-on nails are pre-designed artificial nails that are usually acrylic and placed on top of your natural nail.
While press-on nails can be applied with nail glue, its messy and damaging nature led to a need for alternatives such as nail tapes which are easy to remove, and gel nail polish, which is just as strong as nail glue.
A press-on nails kit. | Source: Getty Images
The Advantages of Press-on Nails
While some women might have horror stories when it comes to press-on nails, modern-day sets are designed to fit a wide variety of nail bed shapes and sizes.
Press-on nails are also easy to apply, allow you to play around with different nail styles without breaking the bank, and offer natural nails greater protection than gel or acrylic nails. Nail artist Gina Edwards added:
"The biggest benefit of a press-on is that you are in charge of your nail health."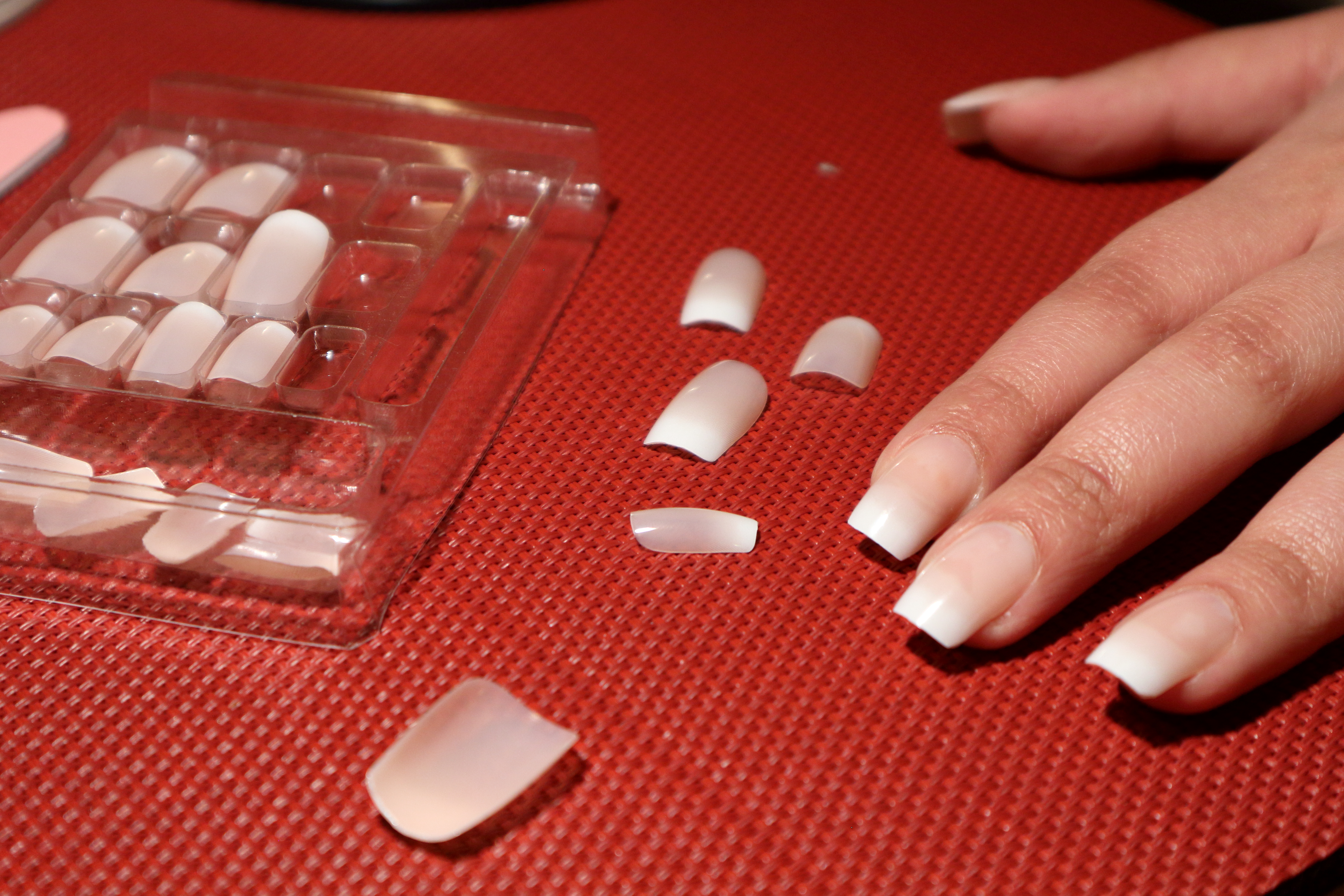 A woman wearing press-on nails. | Source: Getty Images
What to Use Instead of Nail Glue
Nail glue has become the traditional adhesive for fake nails, but its removal process can be damaging and painful. As a result, people have sought alternative ways to secure their press on nails, and the first option on the list is nail tabs.
Nail tabs are double-sided pieces of tape that attach the press-on nails to the natural nails. Unlike nail glue, nail tabs can be easily removed by simply soaking them in warm soapy water, and they are gentle on natural nails.
Press-on nails. | Source: Getty Images
However, nail tabs are not very strong and do not last very long, which makes gel polish a second option. When hardened, gel nail polish can become an adhesive as strong as nail glue and can last for just as long if taken care of.
And like gel nail polish, acrylic mixtures can be used instead of nail glue or tape. Acrylic mixtures are a mix of liquid and powder acrylic, which can be used as an adhesive for press-on nails. Although it isn't beginner-friendly and tips towards the more expensive side, this alternative also offers longevity.
You can also use a homemade solution instead of nail glue. Mixing PVA glue with clear nail polish in a bottle allows you to create a quick and easy alternative to nail glue.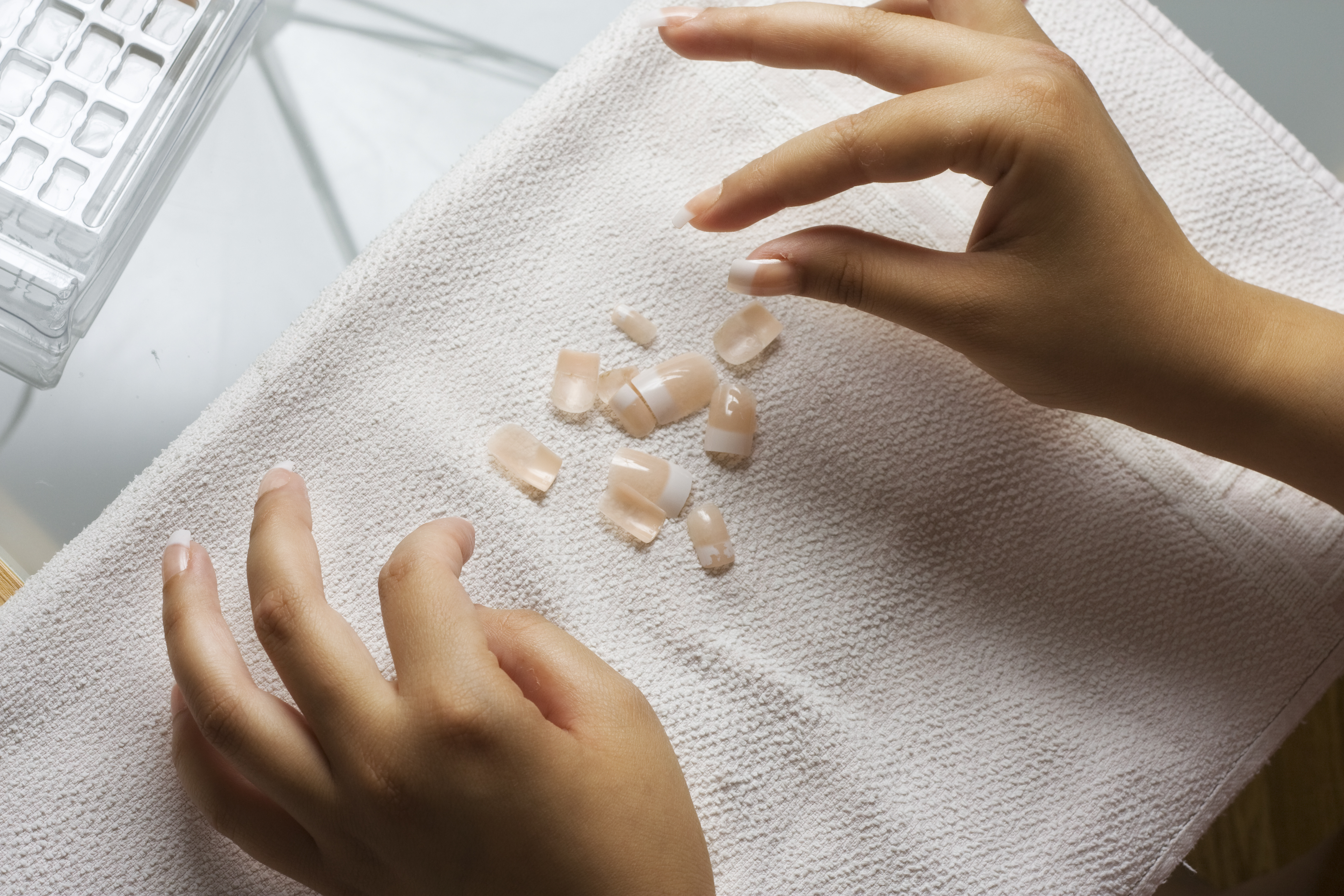 A woman applying press-on nails. | Source: Getty Images
Gluing Your Nails at Home
If you choose to skip out on a long session at the nail salon and opt for a DIY press-on nail manicure, there is a list of materials you will need and steps to follow. After washing your hands, use a nail file and buffer to prep your nails, ensuring your nail beds and cuticles are dry.
With cotton balls or pads, acetone, a Q-tip, and scissors on standby, choose press-on nails that suit your hand and apply your adhesive of choice, whether nail glue, tabs, gel nail polish, or acrylic mixtures. Once it's applied, firmly hold the press-on against your natural nail.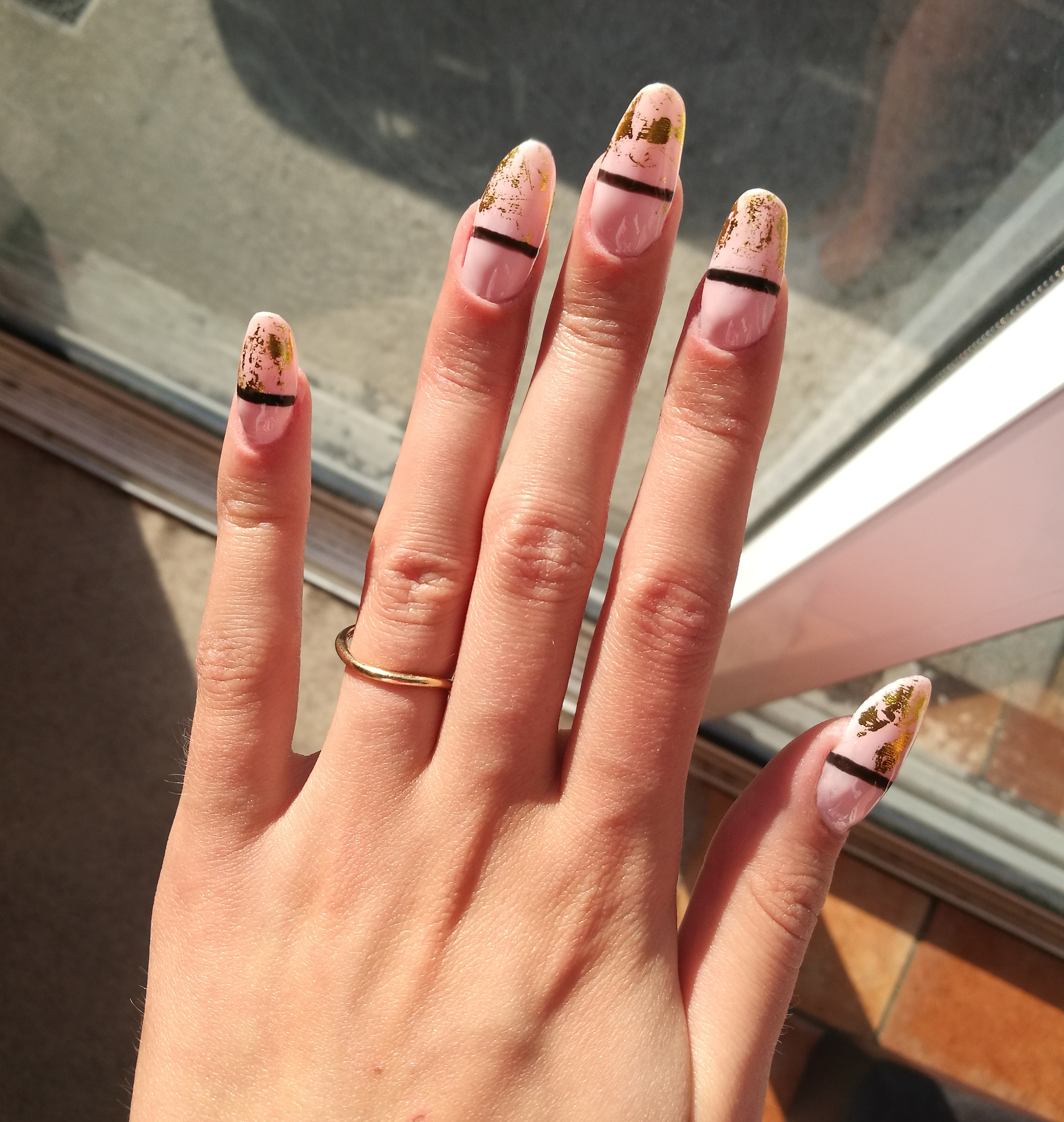 A woman's nails. | Source: Getty Images
Maintain pressure for around 10 seconds—ensuring no air bubbles could lead to lifting or nail fungus— before using a Q-tip or scissors to cut away and clean up any residue that may have seeped out from under the fake nails.
If you use nail glue and get it on your fingers, immerse your hand in warm soapy water, this will loosen the nail glue. To help lift the glue, gently scrub the area of skin that has the adhesive with something coarse, like a toothbrush.
Then, dip your hands in a bowl of acetone or hold a cotton ball or pad drenched in acetone to the skin with the glue. At the end of the process, moisturize your hands, as acetone can be very drying.
Source link