Jeans are a wardrobe staple that can be dressed up or down for any occasion. However, the current Y2K-inspired trend can add a nostalgic twist to denim outfits. And Y2K jeans have never been easier to rock with the abundance of DIY hacks and different looks.
As the fashion world continues to evolve, different styles and trends come in and out of style. And since 2020, Y2K-inspired looks — from makeup to clothes — have risen and taken over some social media platforms.
Fashion gurus and influencers have compiled some of the best looks from the 2000s and turned them into a full-blown aesthetic. However, thanks to a few DIY tricks and multiple Y2K jean styles, you can join the 2000s-inspired fashion wave.
Gwen Stefani performing at the My VH-1 Music Awards 2001 in Los Angeles, California. | Source: Getty Images
What Is Y2K Fashion?
Y2K is the fashion world's way of paying homage to the 2000s for all the outfits and accessories it popularised: from velvet juicy sweatsuits and crop tops to baggy jeans and bedazzled everything.
While the "clean girl" aesthetic was rising in 2020, Y2K fashion came into the picture and juxtaposed the minimalist trend with its loud colors and nostalgic yet chic feel. Everyone wanted to draw on that nostalgia.
Different Y2K Jean Styles
To accomplish the Y2K aesthetic, wide-leg cargo jeans are an effortless way to look chic and comfortable. Characterized by their large pockets, wide leg, and belt loops, wide-leg cargo jeans can be styled in multiple ways to suit a day of running errands or a night out.
Another one of the most memorable jean styles to come out of the 2000s was low-rise jeans. Like wide-leg cargo jeans, low-rise jeans offer much comfort and are an easy go-to for their versatility. If you're going out for drinks, you can throw a blazer over your low-rise jeans to complete the perfect Y2K look.
However, if you want to take a more casual approach to style Y2K jeans, pair the denim with a button-down and your favorite pair of comfortable shoes. In 2001, when Britney Spears and Justin Timberlake wore their matching denim-on-denim outfits to the American Music Awards, they immediately made mixing denim cool.
However, this look is about creating a silhouette to achieve the Y2K vibe. So match your denim pants or crop top with an oversized jacket and keep the shade of denim relatively the same for a seamless look.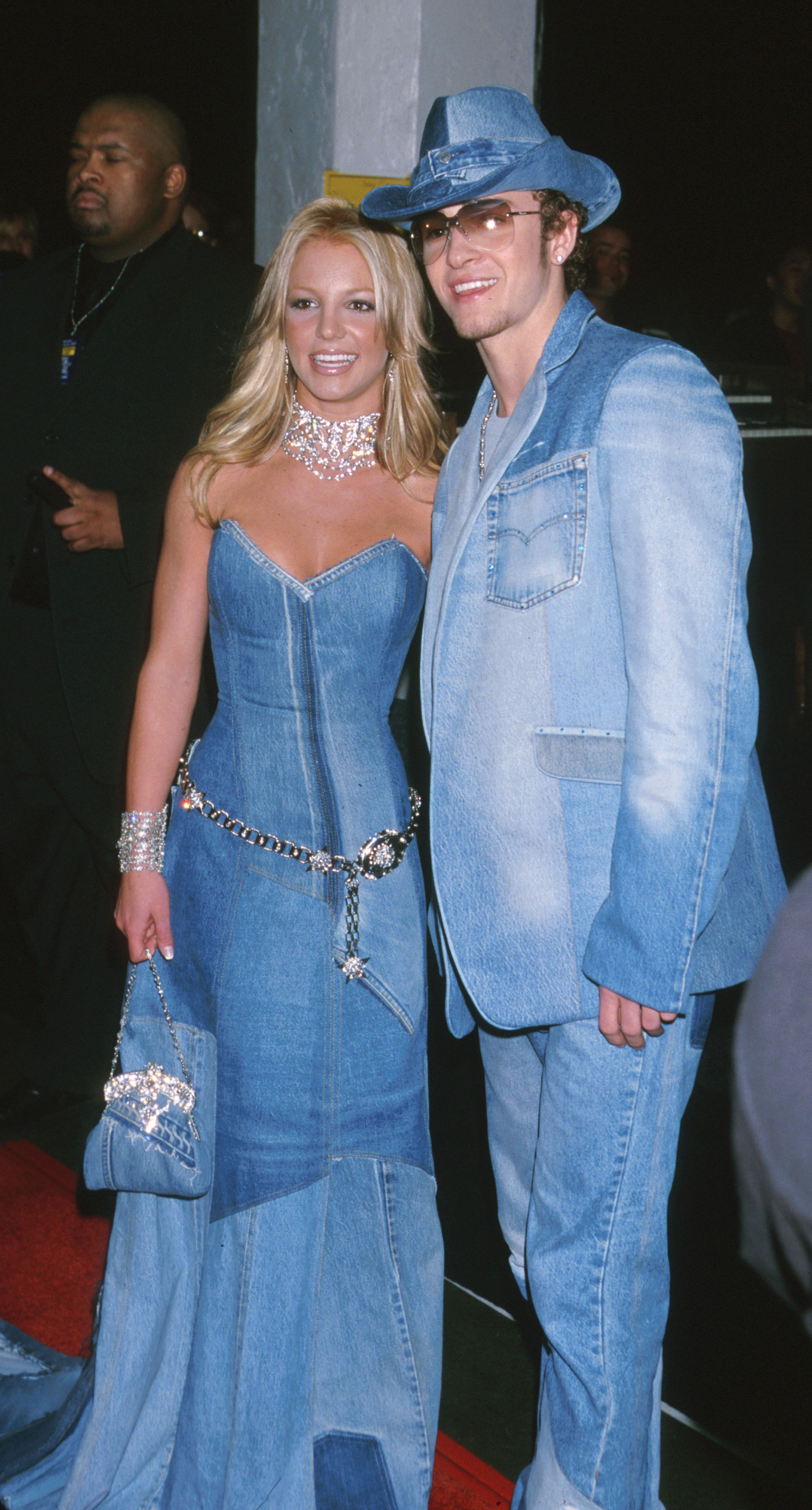 Britney Spears & Justin Timberlake at the 28th Annual American Music Awards on January 8, 2001, in Los Angeles, California. | Source: Getty Images
DIY Y2K Custom Jeans Ideas
If you would like to customize your Y2K jean outfit, thanks to social media, you can do so from the comfort of your home. One of the most straightforward DIY Y2K jeans ideas is distressed jeans.
Once you've chosen your pair of jeans, mark where you would like the destressing to start and end, then cut into the jeans horizontally. After creating your slit, patiently pluck at the exposed thread one by one until you have your desired look.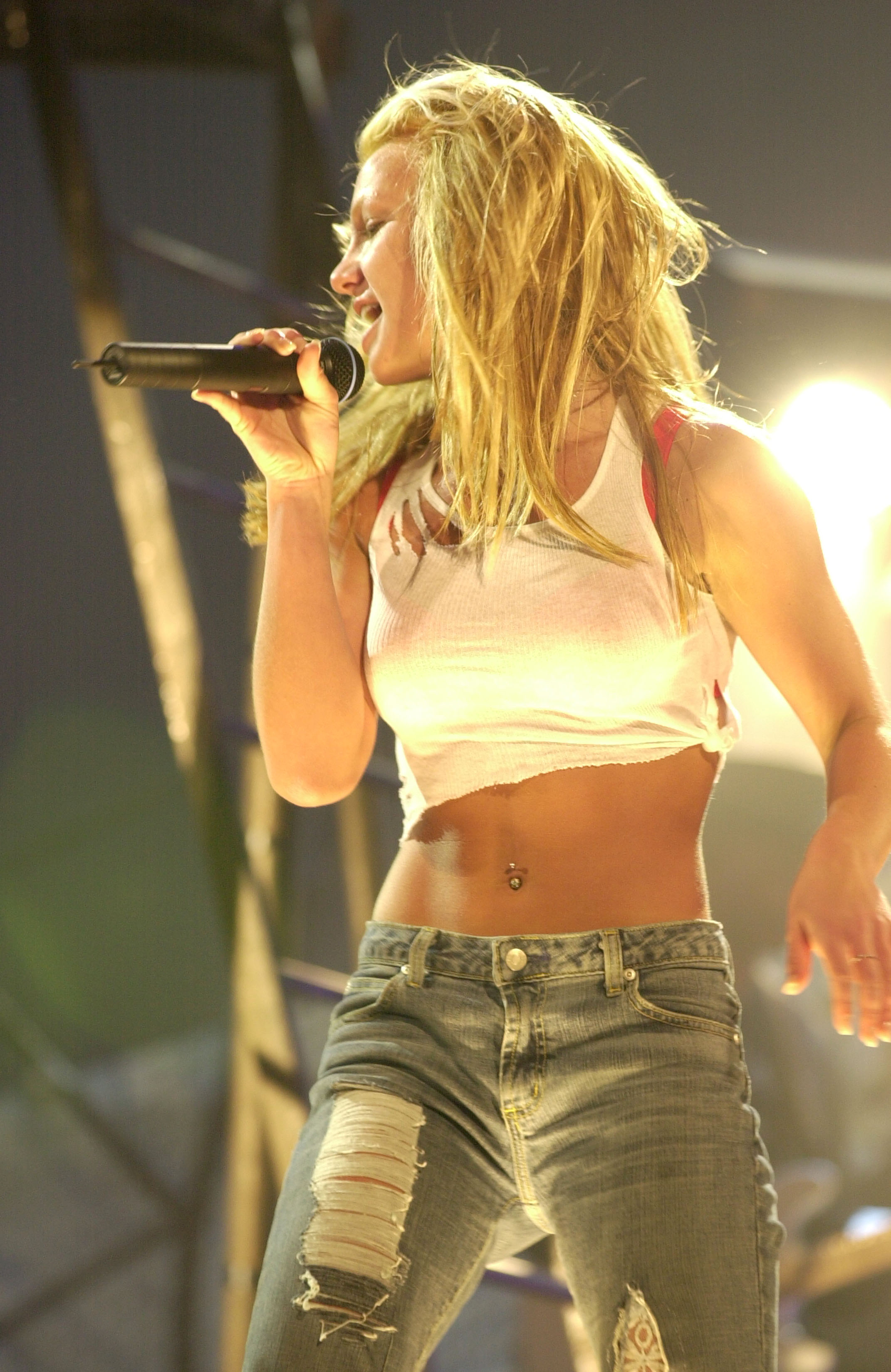 Britney Spears performing at the 28th annual American Music Awards on January 8, 2001. | Source: Getty Images
If you want to distress your jeans in smaller sections, instead of cutting a large slit in the middle, you can cut small areas across the jeans and repeat the same process of plucking at the exposed thread. This style is also known as reaper denim.
Another DIY Y2K custom jeans idea is patchwork jeans. This style will entail cutting fabric from one pair of jeans and sewing them onto another to create the patchwork effect. You can use the same colored jeans for a monochromatic look or add a pop of color with different colored pieces of denim.
Source link