Whether you have yet to find your signature look or want to try something new, beauty experts have gathered the 2023 eyebrows trends — including bold looks and blast-from-the-past styles — that will have you looking chic without compromising the health of your brows.
Freshly done eyebrows are a sure way to boost your confidence. However, looking for a shape and style that suits you and is still stylish can be overwhelming.
But thanks to pros, you don't have to look any further as they have rounded up the top eyebrow trends that suit any face, avoid brow damage, and be in style.
A woman getting her eyebrows done. | Source: Getty Images
The In-Trend Eyebrow Treatments
2023 saw eyebrow lamination, also called brow perm, become a popular eyebrow treatment. "The future of lamination is thinking about how to manipulate your brow to go any which way you want," New York City and Los Angeles-based Chanel brow artist Jimena Garcia said.
Microblading also continues to be an in-demand eyebrow treatment that uses ultra-fine needles and tattoo-like ink to fill in the brows. However, when it comes to shapes and styles, the top three show-stoppers are bleached brows, natural brows, and thin brows.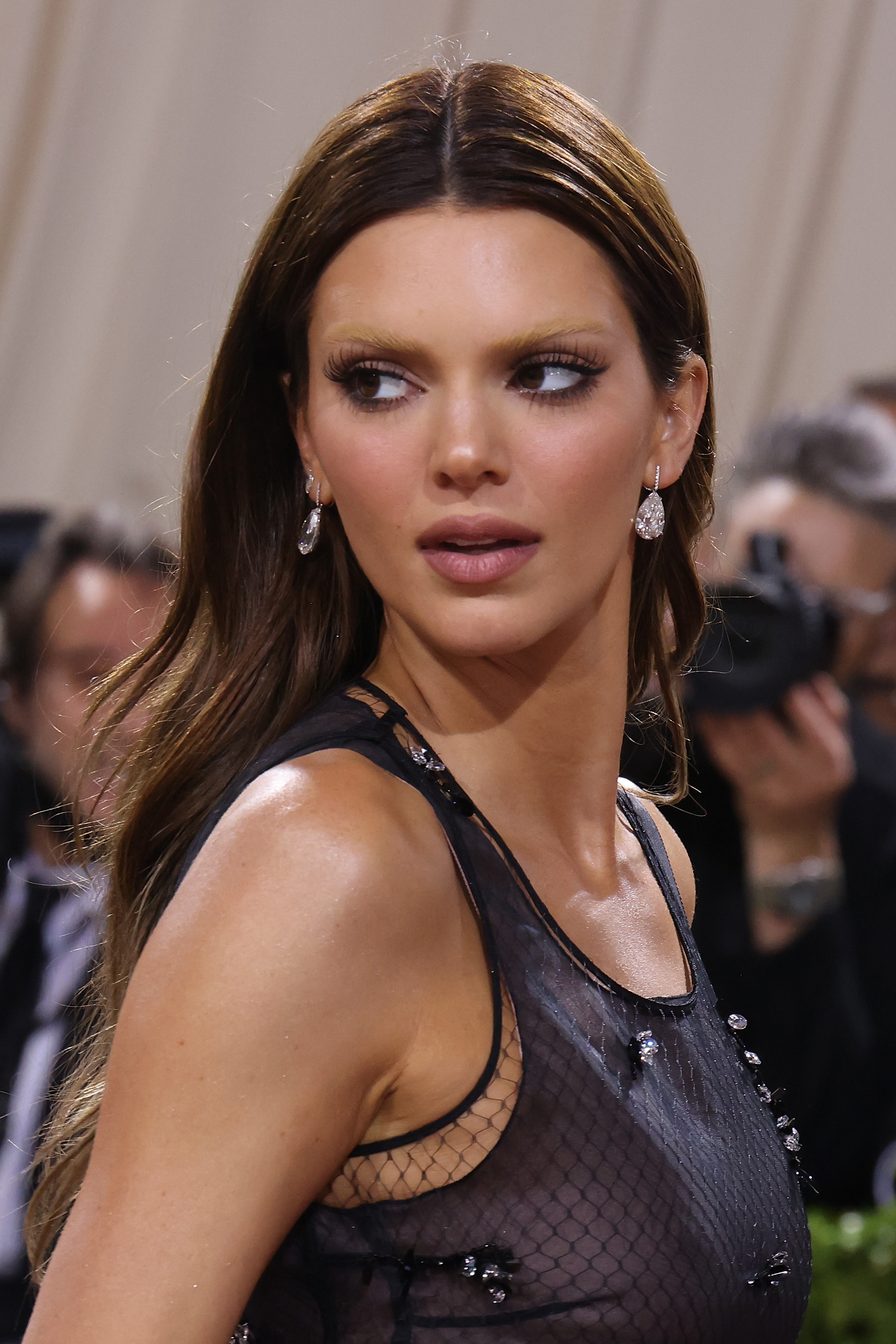 Kendall Jenner at the 2022 MET Gala on May 2, 2022, in New York. | Source: Getty Images
How to Achieve the Perfect Bleached Eyebrows without Using Bleach
The bleached eyebrow trend, similar to the no eyebrow trend, is a brow style that creates the illusion of having no eyebrows or very light ones. Multiple celebrities like Kendall Jenner have rocked this style, and you can achieve it without committing to bleaching by using makeup.
Using a brow brush, you can apply an eyebrow pigment to your brows to create a bleached look. To eliminate the grey look from the brow pigment, add a color corrector and end off with setting powder.
A Step-by-Step on How to Rock Natural (Fluffy) Brows
Natural fluffy eyebrows remain a timeless brow style that is easy to achieve and covered in multiple YouTube videos. After filling in your brows with an eyebrow pencil, blend it with a brush and use an adhesive to hold the brows in place.
Once you've applied your adhesive, whether gel, hair glue, or soap, go back in with the brow brush and fluff your eyebrows using an upward stroke, after your brows are in place, clean up the edges with a thinner brush and a concealer that matches your skin tone for a seamless finish.
The Perfect Skinny Brow
Celebrities have been wearing thin brows since as far back as the '90s and the style has made a comeback. While you may say goodbye to a few eyebrow hairs for this look, you do not need to over-pluck your brows.
Once you've obtained a thin shape by plucking or threading, focus on the middle part of the eyebrow when you use your brow pencil. Unlike natural brows, brush sideways for thin brows, ensuring the brows become thinner towards the ends.
Source link