Southern Pineapple Casserole – This classic sweet and savory Southern dish with pineapple chunks, cheese, sugar, butter, and crackers is amazing. Entertain your palate and your guests during the holidays. It's even perfect for hectic weeknight meals!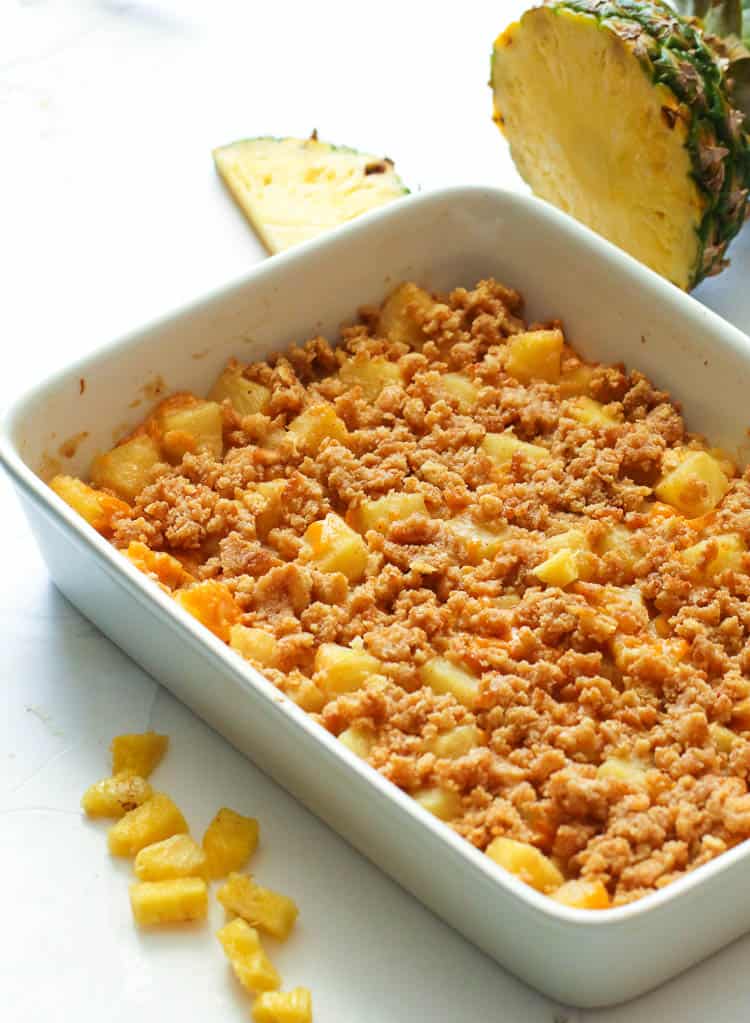 Pineapple is always a fan favorite at my house. We love the sweet and tangy flavor and vibrant color pineapple brings to the table. And I especially love its versatility for savory dishes, sweet desserts, zesty salads, or frothy smoothies.
Pineapple casserole is a family favorite because it perfectly combines the sweetness of pineapple with sharp cheddar cheese and buttery crackers. The balance of crunchy and creamy creates a classic Southern dish that's comforting and addictive!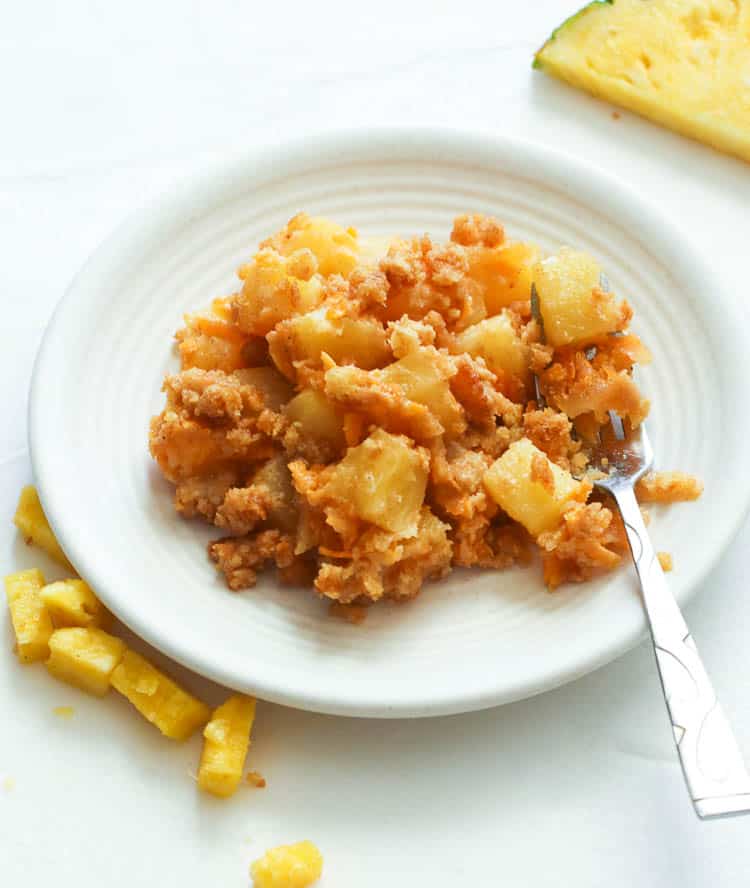 Is Pineapple Casserole a Dessert or a Side Dish?
That is a tricky question! Pineapple lovers usually serve it as a side. Savory cheddar cheese and crackers make it a superb partner for ham. And it's a staple at many Easter holiday feasts.
However, the pineapple's sweetness gives it a cobbler vibe that makes itself at home on any dessert table. So go ahead… add a toasted coconut flakes and a scoop of vanilla ice cream for a tasty dessert!
Recipe Ingredients
Flour – A little bit of flour helps thicken the filling and keeps it from getting soggy.
Sugar – White and brown sugar add sweetness and give the casserole caramelly goodness.
Cheddar – Sharp cheddar cheese balances the pineapple's sweetness and creates a creamy filling.
Pineapple – The base ingredient provides delightful color and sweetness. Crushed pineapple or chunks both work.
Spices – Cinnamon and nutmeg provide warmth and comforting flavors.
Cracker Crumb Topping – Ritz crackers (or generic versions) mixed with butter are ideal for a flaky, crispy topping.
How to Make Pineapple Casserole
Prep – Preheat oven to 325℉ (165℃). Grease a 9×13 casserole dish with a generous amount of butter.
Filling – Mix the flour and sugar in a large bowl. Add cheese, drained pineapple chunks, nutmeg, and cinnamon; stir well. Transfer the pineapple mixture to the baking dish.
Topping – Combine cracker crumbs, melted butter, and reserved pineapple juice in another bowl. Mix well.
Cook – Spread the cracker mixture evenly over the pineapple casserole. Bake for 25-30 minutes or until the edges brown slightly.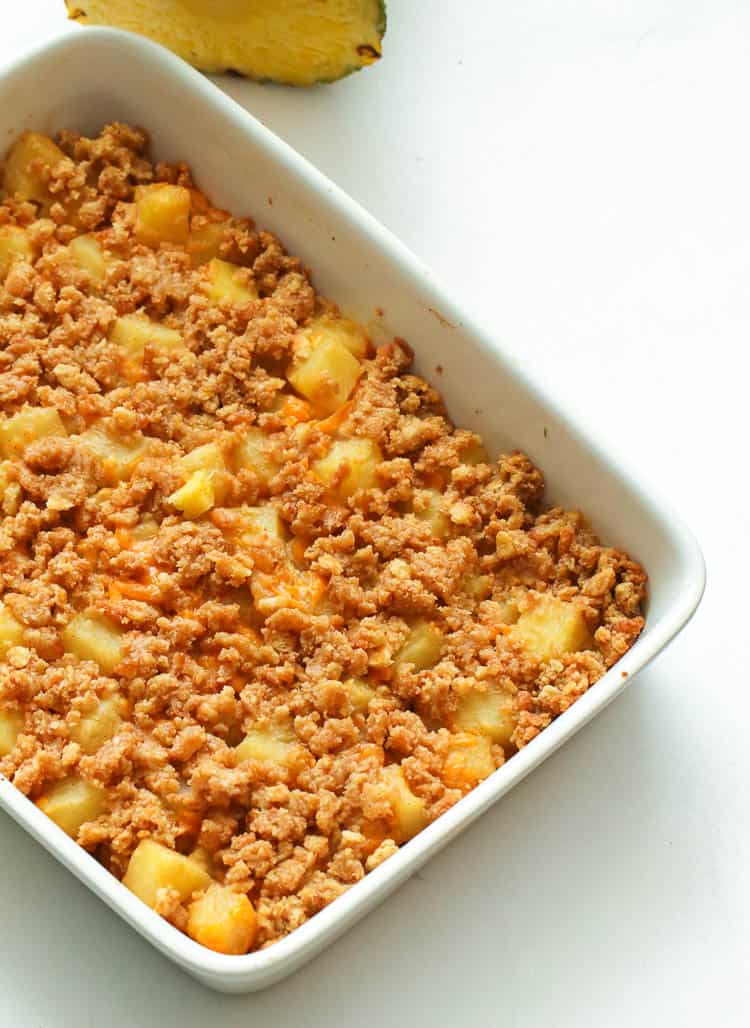 Recipe Variations
Main Course – Add chopped ham or bacon for more protein. Gouda, Colby, and Monterey Jack also ramp up the flavor factor.
Dessert – Add coconut flakes on top for extra sweetness. Adding more fruit to the filling gives it a bigger cobbler vibe.
Toppings – Add pecans or walnuts to the topping for extra crunch.
Heat – A pinch of chili flakes in the filling makes the pineapple pop.
Tips and Tricks
Drain the pineapple chunks well in a strainer before adding them so the filling doesn't get too gooey. 😉
Crush the crackers in a large plastic bag with a rolling pin. Or you can pulse them in a food processor until they reach the desired consistency.
Bake pineapple casserole in a glass or ceramic baking dish for best results. The acidity in pineapple may react with a metal pan, giving the casserole a slightly metallic taste.
For quick and easy cleanup, grease the baking dish before adding the filling.
Make-Ahead Instructions
Prepare pineapple casserole the day before to lighten the workload for the big holiday feast. First, prepare the filling by mixing the pineapple, sugars, and flour. Place the mixture in the baking pan and top it with grated cheese. Cover the dish with plastic wrap and store it in the fridge overnight or freeze it for a couple of months.
Next, prepare the crumb topping and store it separately. Before baking, remove the filling from the fridge and let it come to room temperature. Add the topping and bake as directed.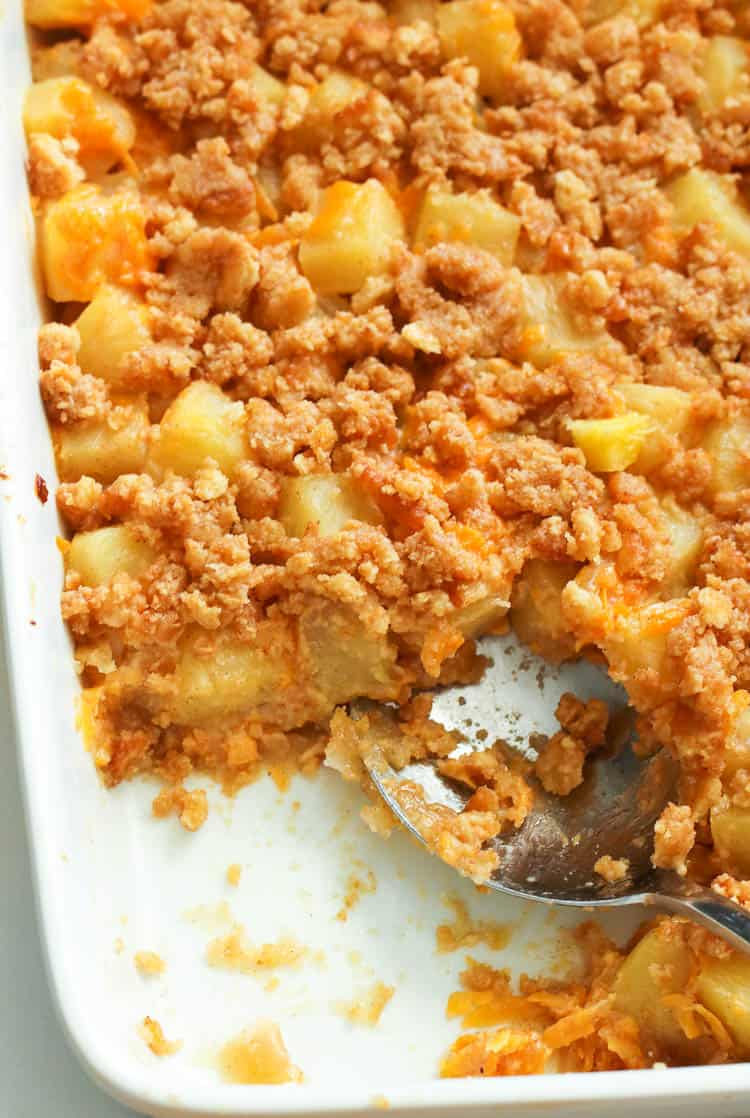 Serving and Storage Instructions
I love this dish hot from the oven to enjoy all that melty, cheesy deliciousness!
Just pop leftover pineapple casserole in an airtight container and store it in the fridge for up to 5 days.
Or freeze it for up to 3 months. The cracker topping's texture changes once thawed, but it's still delicious! Thaw the frozen casserole in the fridge overnight and let it sit on the counter for about an hour before reheating.
To reheat, place leftovers in a baking dish and heat in the oven at 350℉ (175℃) for 15-20 minutes. But leftovers also taste amazing cold, straight from the fridge. 😉
FAQs
Should I cover the pineapple casserole while baking?
Not necessarily. However, keep an eye on it during the final 5 minutes. Cover the dish for the last few minutes of baking if the topping browns too much.
Can I use fresh pineapple?
Although I'm a fan of fresh pineapple, canned pineapple is best for this recipe. However, if that's what you have, here's what you do. Peel and chop the fresh pineapple, sprinkle a couple of spoonfuls of sugar, and mix it in.
The sugar will pull out those delicious juices. So wait about 30 minutes to an hour and drain the excess juice. Proceed with the recipe.
Where did pineapple casserole originate?
Pineapple casserole is classic Southern comfort food! Although its exact origin is unknown, recipes started gaining popularity in the 1950s.
What to Serve With Pineapple Casserole
For a holiday feast, serve this pineapple casserole with glazed ham, oven-roasted red potatoes, and sauteed Brussels sprouts. A big ol' scoop of vanilla ice cream or homemade whipped cream makes an incredible dessert.
More Scrumptious Pineapple Recipes to Try
Conclusion
This classic pineapple casserole is the perfect fusion of sweet and savory! Do you serve it as a dessert or a side? Leave your vote in the comments below! 😉
Watch How to Make It
[adthrive-in-post-video-player video-id="4rVf531I" upload-date="2020-11-22T05:00:00.000Z" name="Pineapple Casserole" description="Pineapple Casserole – a classic sweet and savory Southern dish made with pineapple chunks, cheese, sugar, butter and Ritz crackers. If you want your palate to be entertained, then this dessert-like casserole is what you need. Great for the holidays or even for regular days!" player-type="collapse" override-embed="false"]
This blog post was originally published in October 2019 and has been updated with additional tips, new photos, and a video.
Pineapple Casserole
This classic sweet and savory Southern dish with pineapple chunks, cheese, sugar, butter, and crackers is amazing. Entertain your palate and your guests during the holidays. It's even perfect for hectic weeknight meals!
Prep: 10 minutes mins
Cook: 25 minutes mins
Total: 35 minutes mins
Southern
Instructions
Preheat oven to 325℉ (160℃).

Grease a 9×13 baking dish with a generous amount of butter.

In a large mixing bowl, stir the flour and sugars together. Mix in cheese, then add drained pineapple chunks, followed by the nutmeg and cinnamon. Stir until well combined. Transfer the mixture to the prepared baking dish.

In another bowl, combine cracker crumbs, melted butter, and reserved pineapple juice and mix well. Evenly spread the crumb mixture across the top of the pineapple mixture and bake for 25-30 minutes or until slightly brown around the edges.
Tips & Notes:
Please keep in mind that nutritional information is a rough estimate and can vary greatly based on products used.
Nutrition Information:
Serving: 1slice| Calories: 1138kcal (57%)| Carbohydrates: 91g (30%)| Protein: 35g (70%)| Fat: 71g (109%)| Saturated Fat: 35g (219%)| Polyunsaturated Fat: 11g| Monounsaturated Fat: 17g| Trans Fat: 1g| Cholesterol: 150mg (50%)| Sodium: 1474mg (64%)| Potassium: 225mg (6%)| Fiber: 2g (8%)| Sugar: 30g (33%)| Vitamin A: 1556IU (31%)| Vitamin C: 0.1mg| Calcium: 975mg (98%)| Iron: 5mg (28%)