Curry Stew Goat with the skin is on a whole other level of deliciousness, however, there are challenges involved in making it.
What do you do when you have a desire for and plan to cook goat with a bad reputation(Mom said hers took 3 hrs to cook) and only one hour to cook it before your husband gets home? Well, desperate times call for desperate measures.
Instant Pot to the rescue of course. I only use the instant pot for these dire emergencies, because while it saves on time. The honest truth is that the taste will never be the same if cooked low and slow even for 3 hours.
Getting the flavors right required additional sugar than I would typically use, no other liquid added to the meat, enough seasonings and salt. The flavors were on point and everyone enjoyed it.
Did you Watch the Curry Stew Goat Video?
If you have seen my recent video where I cooked this curry stew goat, you would have noticed that the next challenge involved browning the sugar. I wanted a one-pot meal and did not want to brown the sugar in one pot and then transfer it into the instant pot.
Knowing that the pot of my instant pot is all stainless steel, I browned the sugar in that with direct flames from the stove. The pot heated up pretty quickly and the sugar browned in record time. The result proved the efficacy of the test, however, I will not recommend if you are not familiar with the stewing process or is slow in the kitchen. The sugar browned so quickly, it would have burned if I cooked one second more.
To prevent any mishaps, brown the sugar over low heat or brown the meat separately in a Dutch oven or heavy-bottomed pot, allow the meat to release some of its juices, and then transfer to the instant pot.
You can also keep this as a 'stew goat' by eliminating the curry and if you want a more pronounced curry flavor, make curry goat or add more curry when seasoning the goat.
Serve hot with dhal, rice or paratha, dhalpuri, dosti roti.
You Will Also Love these Recipes:
Lazy Wife Instant Pot Lamb Pilaf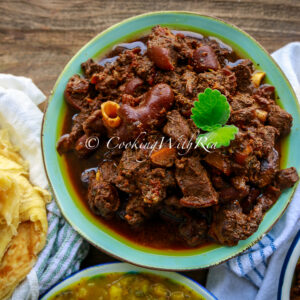 Soak goat with 1 cup vinegar(or lemon or lime juice) and enough water to cover for up to 30 minutes. Rinse several times and drain.

Season with green seasoning, minced garlic, onion, tomato, curry powder, salt and pepper and marinate for a min of 1 hr or overnight covered in the fridge.

Heat oil in the pot of an instant pot over high heat, (only if it is completely stainless steel, otherwise brown sugar in a pot, add meat, cook for a few minutes and then transfer).

When the oil is hot, add brown sugar and allow it to froth, bubble, expand and darken to the color of browning. If it is browning too quickly, reduce the heat to low.

Add seasoned goat and stir well to coat with the burnt sugar. Cook for 10 minutes, stirring occasionally.

Add carrots, celery, thyme sprigs and stir to combine.

Once the meat begins to release its juices, place the pot onto the instant pot and set the timer for 20 mins.

Cover and allow it to cook. Once the timer has gone off, release lid and check for doneness and salt. If it is still tough, place back for another 5-10 mins depending on the toughness. Add salt if required. If the liquid is not thick enough, put on the sauté feature and cook for another 5-10 mins.
Calories: 176kcal | Carbohydrates: 19g | Protein: 6g | Fat: 9g | Saturated Fat: 4g | Polyunsaturated Fat: 1g | Monounsaturated Fat: 4g | Cholesterol: 17mg | Sodium: 84mg | Potassium: 422mg | Fiber: 1g | Sugar: 17g | Vitamin A: 1308IU | Vitamin C: 5mg | Calcium: 236mg | Iron: 1mg
Source link