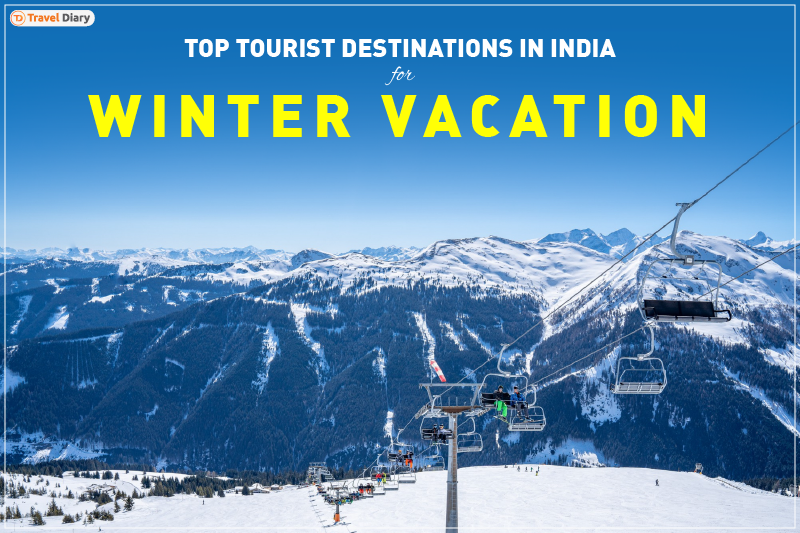 Are you planning a wonderful adventure this winter? If you're looking for an amazing vacation experience, these stunning winter destinations in India will make your trip awesome. Here is a list of the most stunning spots to visit in India during the winter to ensure that your vacation is epic. Prepare to witness beautiful surroundings and thrilling activities in one trip.
Here is the list of the top winter holiday destinations in India. Get ready to embrace the winter wonderland and make the most of your vacation.
List of Some Winter Destinations in India
Auli
Gulmarg
Nainital
Kohima
Great Rann of Kutch
Jaipur
Munnar

 
Auli
Auli, a stunning hill station drenched in pristine white snow. It offers an exceptional skiing experience for adventure enthusiasts right here in India. This paradise lets you indulge in thrilling sports like skiing, snowboarding, and more. And you can also hop on the longest cable car for stunning views of the majestic Himalayas. Auli undoubtedly tops the charts as one of India's premier winter destinations.
Gulmarg
Gulmarg is one of the top winter destinations in india. It is beautiful all year, and winter adds a particular touch. During snowstorms, the entire town is coated in a perfect white robe, creating a playground for adventure seekers. Aside from traditional winter sports, the top offers breathtaking views. Create snowmen, and snow angels, and take pleasure with enthusiasm.
Nainital
Nainital, often referred to as the 'Gem of Uttarakhand,' is a heavenly hill station adorned with serene lakes and boundless natural beauty. Its name derives from the Naini Lake, the heart and soul of the town's charm. The winter season adds an enchanting touch to Nainital's already pleasant climate. Take a serene boat ride on the captivating Naini Lake, explore the vibrant Tibetan Market, savor local delicacies, and wander along the lively Mall Road. Don't miss the breathtaking views of the snow-clad Himalayan peaks from Snow View Point.
Also Read: Places to Visit near Delhi in Winter
Kohima
Kohima, named after the wild flowering plant Kewhi, is tucked in the Northeastern reaches of India. Its peaceful way of life attracts travelers seeking a serene and picturesque getaway. Kohima's unique culture, distinct tribes, rare artifacts, and vibrant clothing are a must-see. But the highlight comes during winter. The Hornbill Festival hosts a weeklong extravaganza of cultural events, including floral displays, food stalls,  fashion, craft bazaars, motorsports, music, cycling, film festivals, and various competitions. 
Great Rann of Kutch
This winter, why not explore the vast, arid expanse of the Great Rann of Kutch? This desert of glistening white salt creates a surreal and captivating landscape. Witness stunning settings, including mesmerizing sunsets and the crystal-clear full moon. Adventurers can even take a hot air balloon ride, granting an extraordinary view of the Rann's bewitching beauty. The Rann Festival kicks off in winter, featuring numerous camps with luxurious amenities and a myriad of artistic programs that showcase Gujarat's rich culture. The Great Rann of Kutch is an attraction you can't afford to miss!
Jaipur 
Jaipur is an intricately designed city, enveloped by magnificent walls and gates, bathed in a beautiful pink hue. Majestic palaces, tales of valorous battles, and imposing forts are just a glimpse of what this gem offers. With a delightful chill in the air and a gentle breeze, you can escape the scorching heat Rajasthan is known for. Watch as the monuments come to life during the Christmas and New Year seasons, casting a golden glow over the region.
Munnar 
Munnar's hills are covered with beautiful green tea farms that spread as far as the eye can see. This hill station, Kerala's own piece of paradise, attracts visitors with its strong and warm landscapes. During the winter, the air gets covered in a mysterious fog, and you can hear the whispers of chill in the breeze. Explore huge meadows, watch the exciting tea-making process, and drink a delicious cup of tea. Visiting this lush town when the air is clean and cool is an unforgettable experience. Munnar is a popular destination for newlyweds due to its relaxing environment and exceptional beauty.
These are some of the popular winter destinations in India.  Whether you're a culture buff, an adrenaline junkie, or simply desiring a serene getaway, these locations in India offer something for everyone.
So, make this winter a memory in your travel story that you'll fondly remember. Pack your bags, book low-cost international flights, and create lasting memories amidst the beauty and charm of these incredible places.
Disclaimer:
Indian Eagle claims no credit for the images featured on its blog site. All the visual content is copyrighted to its respective owners only. We mention the source name of the image whenever possible and found. However, if we miss acknowledging the owner's source, please contact us. In case, owners don't want us to use their images, we will remove them promptly. We believe in providing proper attribution to the original author, artist, and photographer.
Source link